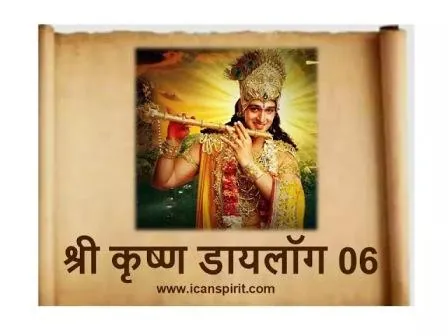 Shree Krishna Dialogue Status : Sri Krishna is an Indian television series created written and directed by Dr Ramanand Sagar. Sri Krishna is an adaptation of the stories of the life of Lord Krishna based on Bhagavat Puran, Brahma Vaivart Puran, Hari Vamsa, Vishnu Puran, Padma Puran, Garga Samhita, Bhagavad Gita & Mahabharat.
Shree Krishna Dialogue Status । श्री कृष्ण डायलॉग l श्री कृष्ण 06
क्षमा माँगने से मित्रता के रिश्ते को लाज लगती है
क्योंकि मित्रता की पहचान यही है की यदि
एक मित्र धोखा भी दे तो भी दूसरा उसे
मित्रता की पहचान समझकर उस धोखे
को हँसके स्वीकार कर ले
अरे यदि दोनों एक दूसरे के लिए
अच्छे अच्छे रहेंगे तो मित्रता की पहचान
कब होगी मित्र बने हो तो मित्र की अच्छाई
बुराई सब भूल जाओ
केवल मित्र बने रहो बस केवल मित्र।
श्री कृष्ण डायलॉग Shree Krishna Dialogue Status 06 in English
Apologizing makes the friendship relationship a shame
Because the identity of friendship is that even if
a friend cheats Yet another considers
it to be the identity of friendship
Laugh out and accept that deception
Hey if both are good enough for each other
So when will the friendship be recognized
If you become a friend, forget all the good
and evil of a friend
Just be friends, just be friends.
Shree Krishna Dialogue Status is a series of Dialogue Clips from Ramanand Sagar's Shree Krishna . These Shree Krishna Dialogues are like life lessons for everyone to learn from. Ramanand Sagar's rendition of Lord Krishna's legends; from his mischievous yet miraculous childhood to his spiritual teachings.The epic TV serial 'Shri Krishna' sings the glory of Lord Krishna and is based on '​Shrimad Bhagwat Mahapuran'.
Produced & Directed – Ramanand Sagar
Associate Directors – Anand Sagar, Moti Sagar
Executive Producers – Subhash Sagar, Prem Sagar
Chief Technical Advisor – Jyoti Sagar
Screenplay & Dialogues – Ramanand Sagar
Music – Ravindra Jain
Shri Krishna also known as Krishna, is an Indian-television historical series, created, written and directed by Ramanand Sagar. It is an adaptation of the stories of the life of the Hindu deity Krishna, based on Bhagavata Purana.
Shree Krishna Cast character Details:
Sarvadaman D. Banerjee as Krishna / Vishnu
Swapnil Joshi as Teenage Krishna
Ashok Kumar Balkrishnan as Child Krishna
Palak as child krishna (in fal wali,maiya mori mai nahi makhan khayo, matki fod,basuriwala episodes)
Deepak Deulkar as Balram / Sheshanag
Sanjeev Sharma as Teenage Balram
Pinky Parikh as Rukmini / Yamuna / Lakshmi / Durga
Reshma Modi as Radha
Shweta Rastogi as Teenage Radha
Paulomi Mukherjee as Devaki
निष्कर्ष
दोस्त! अगर आपको "Shree Krishna Dialogue Status" Shree Krishna Ramanand sagar वाला यह आर्टिकल पसंद है तो कृपया इसे अपने दोस्तों को सोशल मीडिया पर शेयर करना न भूलें। आपका एक शेयर हमें आपके लिए नए गाने के बोल लाने के लिए प्रेरित करता है 
अगर आप अपने किसी पसंदीदा गाने के बोल चाहते हैं तो नीचे कमेंट बॉक्स में लिखकर हमें बेझिझक बताएं हम आपकी ख्वाइस पूरी करने की कोशिष करेंगे धन्यवाद!
🙏 जय श्रीकृष्ण 🙏