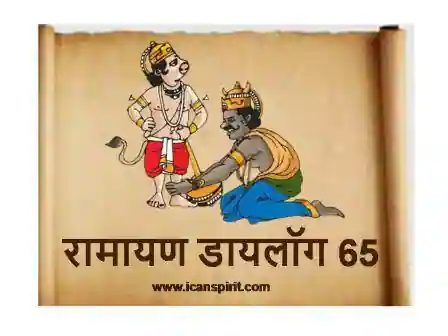 Ramayan Dialogue Status Angad : Ramayan is an Indian television series created, written, and directed by Ramanand Sagar. Ramayan is one of two major Sanskrit epics of ancient India Ramayan is an Indian Hindi-language mythological television series.
The show is primarily based on Valmiki's Ramayan and Tulsidas Ramcharitmanas.Watch ramayan dialogue status by ramayan actor directed by ramanand sagar
| | |
| --- | --- |
| धारावाहिक : | रामायण रामानंद सागर कृत |
| संगीत : | रवींद्र जैन |
| निर्देशक | रामानंद सागर |
| शैली | पौराणिक कथा |
| मूल प्रसारण | २५ जनवरी १९८७ – ३१ जुलाई १९८ |
| मूल चैनल : | दूरदर्शन |
| छायांकन : | अजित नाइक |
| निर्माता : | रामानंद सागर, आनंद सागर, मोती सागर |
| संपादक : | सुभाष सहगल |
| मूल भाषा : | हिंदी (Hindi) |
रामायण डायलॉग – Ramayan Dialogue Status Angad
"मूर्ख, चरन पकड़ने है तो जाके श्री राम के चरन पकड़ जीनके चुनो में मुक्ति का द्वार हैं
मेरा पैर क्यों पकड़ता है
मेरी चुनौती आपके योद्धाओं को थी आपको नहीं
आपको तो में फिर यही कहूंगा श्री राम के चरन पकड़ लीजिए तो आपका कल्याण हो जाएगा
मैं कल सूर्योदय तक का समय देता हूँ उसके पश्चात लंका पर चढ़ाई कर दी जाएगी"
Ramayan Dialogue Status Angad Vs Ravan – रामायण डायलॉग
"moorkh, charan pakadane hai to jaake shree raam ke charan pakad jeenake chuno mein mukti ka dvaar hain
mera pair kyon pakadata hai
meree chunautee aapake yoddhaon ko thee aapako nahin
aapako to mein phir yahee kahoonga shree raam ke charan pakad leejie to aapaka kalyaan ho jaega main kal sooryoday tak ka samay deta hoon usake pashchaat lanka par chadhaee kar dee jaegee"
Ramayan Dialogue Status is a series of Dialogue Clips from Ramanand Sagar's Ramayan Spoken by actors portraying Sri Ram, Sita Ma, Hanuman ji, Lakshman , Bharat, Ravan, Meghnad, Kumbhkaran among others, these Ramayan Dialogues are like life lessons for everyone to learn from.
Watch all the Ramanand Sagar's Ramayan full episodes here Ramayan garnered a total of 170 million viewers in first 4 shows during which DD National became the most watched Indian television channel after many years
Produced & Directed by Ramanand Sagar
Associate Directors – Anand Sagar, Moti Sagar
Executive Producers – Subhash Sagar, Prem Sagar
Chief Technical Advisor – Jyoti Sagar
Screenplay & Dialogues – Ramanand Sagar
Music – Ravindra Jain
रामानंद सागर कृत् रामायण के चुनिंदा डायलॉग की शृंखला है रामायण डायलॉग स्टैटस। भगवान श्री राम, सीता माँ, हनुमान जी, लक्ष्मण, भरत, रावण, मेघनाद, कुम्भकर्ण इति आदि के पात्रों द्वारा उचारे ये संवाद जीवन सीख प्रदान करते हैं। मायण एक भारतीय टेलीविजन श्रृंखला है जो इसी नाम के प्राचीन भारतीय संस्कृत महाकाव्य पर आधारित है।
यह श्रृंखला मूल रूप से 1987 और 1988 के बीच दूरदर्शन पर प्रसारित हुई थी। इस श्रृंखला के निर्माण, लेखन और निर्देशन का श्रेय श्री रामानंद सागर को जाता है।
Cast:-
Arun Govil as Ram
Deepika Chikhalia as Sita
Sunil Lahri as Laxman
Arvind Trivedi as Ravan
Dara Singh as Hanuman
Sanjay Jog as Bharat
Samir Rajda as Shatrughna
Vijay Arora as Indrajit (Meghnad)
Bal Dhuri as Dasharath
Mulraj Rajda as Janak
Conclution
Friends! If you like "Ramayan Dialogue Status Angad – ramayan ramanand sagar | रामायण डायलॉग", then please do not forget to share it to your friends on social media. Your one share inspires us to bring you new ramayan status dialouge ahead stay tuned
If you want to status of any ramayan dialouge, feel free to tell us by writing in the comment box below.